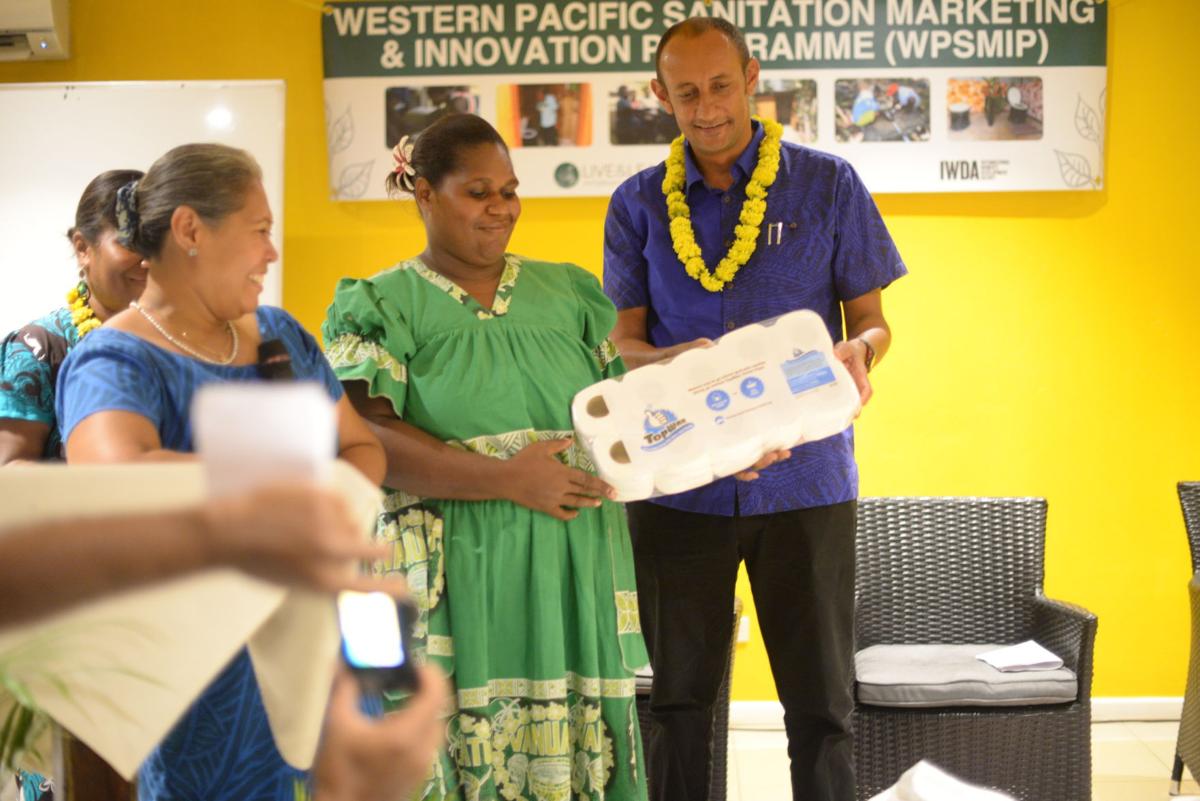 Vanuatu Daily Post – Two local Community Based sanitation Enterprises (CBEs) established last year targeting families in Blacksands and Erakor Half-Road achieve better health and well-being through access to toilets and safe sanitation, have recently launched TopWan Brand and few of their original products.
The new brand name is used by the two CBEs, Tuburah Sanitation Enterprise and Samapeta Sanitation Enterprise, to market their products and services that they provide in Blacksand and Erakor Half Road.
TopWan branded toilet and sanitation products are produced, installed and sold by both CBEs.
Launched by the Minister of Health, Jerome Ludvaune and Australian High Commission Senior Program Manager, Patrick Haines, the launching is an outcome of a project implemented by Live & Learn Environmental Education Vanuatu called Western Pacific Sanitation Marketing & Innovation Progam.
Both Community based sanitation enterprises are already marketing their products which include portable toilets, toilet papers, and sanitary pads.
The portable toilets, according to Mrs. Iva Koroisamanunu have been designed to be used by old people or people living with disabilities for easy access to toilets instead of walking long distances to toilets.
"There have been people living in Blacksands area who have shown interests at purchasing the portable toilets. The toilets are easy to use and clean."
Speaking at the launching, Minister Ludvaune thanked Live & Learn for coordinating the project. He confirmed that if the project turned out successful, the Ministry of Health would ensure this project is supported and developed in the future.
He also thanked the Department of Foreign Affairs and Trade (DFAT) under the Australian Aid for improving sanitation and hygiene practices within peri-urban areas in Port Vila, by funding this project.
The minister congratulated both CBEs for their great achievement and wished them luck in their businesses.
Australian High Commission Senior Program Manager, Patrick Haines joined the Health minister to congratulate both CBEs and especially their managers who are both females for leading the project, so far a success story.
He remarked that the launching has marked another step forward for both CBEs. He also acknowledged Live & Learn for implementing this project and said he looked forward to a successful outcome.
Samapeta Sanitation Enterprise and Tuburah Sanitation Enterprise are urging the public to support their business to help promote a clean, healthy and happy family. TopWan toilet paper can be purchased in retail shops in Blacksands area and Erakor Half-Road.